Sunday, December 16, 2012 - 18:30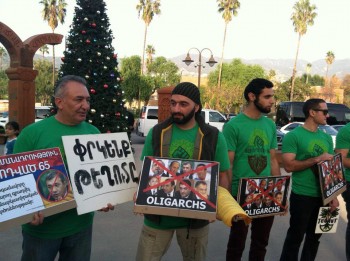 Consistent with its mission to promote a better understanding of developmental challenges facing Armenia, Policy Forum Armenia invited a reknown environemntal activist Yeghia Nersesian to visit the United States for a series of presentations on environmental issues and a grassroots movement that is gaining a strong momentum in Armenia.
The main event of the series—held on December 16 and titled "Averting Environmental Disaster: Solutions to Irresponsible Minign in Armenia"—was co-organized by Policy Forum Armenia, Armenian Bar Association, ARF Shant Student Association, ARPA Institute, Armenian Tree Project, Armenian Environmental Network, Armenian Engineers and Scientists of America, Birthright Armenia, HaikProject, and Save Teghut Group. 
Yeghia's talk, which was devoetd to the dangers of mining policy and practices currently in place in Armenia, was followed by the screening of a documentary "Mining in Armenia" by director Robert Davidian and a short performance by singer and songwriter Gor Mkhitarian. 
You can read more about the event on the PFA Blog.