Monday, December 13, 2010 - 00:00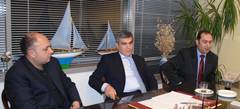 On December 10, 2010, Policy Forum Armenia held a roundtable entitled "5,000 Dram, Voting Roulette, and AK-74: How to Reform the Election System in Armenia" featuring Armenia's former Prime Minister, Aram Sargsyan, and former Deputy Minister of Health and attorney, Artak Zeynalyan, who visited Washington at the invitation of the State Department.
Participants discussed the political developments in Armenia since the 2008 presidential election and March 1-2, 2008 events, as well as possible ways out of the current gridlock. The speakers offered their views about the potential for, and factors behind, political change in Armenia ahead of parliamentary and presidential elections scheduled in 2012 and 2013, respectively. Given the length that the current administration is willing to go to maintain its grip on power, they expressed skepticism about the role the regular elections can play in delivering any meaningful change. Speaking about the election fraud and wide-spread irregularities observed in 2008 and 2009, the participants discussed potential mechanisms for independent election monitoring to help make national elections in Armenia less fraudulent and more transparent. A spirited question-and-answer session followed the initial presentations.
Aram Sargsyan served as Armenia's Prime Minister between November 1999 and May 2000, following the assassination of his brother, PM Vazgen Sargsyan, in the Armenian parliament building in October 1999. He has since been actively involved in the opposition movement, as leader of the Republic party and as a prominent member of the Armenian National Congress.
As part of his duties as a member of the Republic party, Artak Zeynalyan was in charge of filing claims of procedural violations and fraud in the 2007 parliamentary election. He was actively involved in 2008 and 2009 as part of a team of legal experts charged with collection and processing of evidence related to election fraud, and he has represented the victims of the March 1-2, 2008 post-election massacre in Armenian courts.