Saturday, October 10, 2009 - 00:00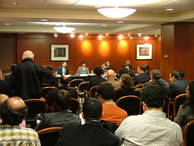 In collaboration with academic and policy institutions in Washington, DC and New York City, Policy Forum Armenia held a series of seminars titled "Armenia-Turkey Protocols: Reality and Myths" in November, December, and January, 2009.
The first seminar was hosted by the George Washington University International and Comparative Law Program and held on November 19. It featured Professors Susan Karamanian and Henry Theriault, and Gregory Aftandilian. See the pictures from the first seminar Photo Gallery. The Armenian Reporter and Voice of America provided coverage of the event. The audio recording of the presentations and the Q&A session that followed are available here.
The second seminar was held at Fordham University, in collaboration with the Fordham Armenian Student Association, on December 17 and featured Professors Ani Kalayjian and Asbed Kotchikian, and Dr. Antranig Kasbarian.
The third seminar was held in Washington on January 25 in collaboration with The American Society of International Law and The George Washington University Law School. The seminar's speaker was Professor Catherine Kessedjian of Pantheon-Assas University, Paris (France) with Professor Sean Murphy, the Patricia Roberts Harris Research Professor of Law and GWU Law School, presiding. Pictures from the third seminar are available in Photo Gallery.
Full video recording of the third seminar can be watched on PFA's YouTube channel.