Sunday, February 28, 2010 - 08:00

to

Tuesday, March 2, 2010 - 12:30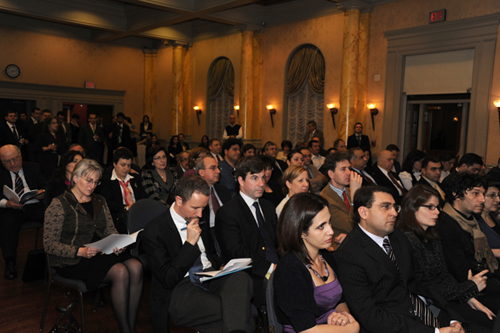 Agenda of the Forum   Bios of Speakers   Photo Gallery   Keynote Speech by Raffi Hovannisian (video)  Sponsors of the Forum
Despite the official rhetoric on both sides, Armenia-Diaspora relations remain strained after 20 years since independence. To provide an opportunity for academics, policy practitioners, and the public to discuss perspectives on, and approaches to, the present-day challenges facing the Armenian nation, Policy Forum Armenia organized its 2nd Annual Forum in Washington, DC on February 28-March 2, 2010.
Day 1 of the Forum (February 28) was held at the Cosmos Club, Washington's premier venue for social and policy events, and featured the presentation of PFA's Report on "Armenia-Diaspora Relations: 20 Years Since Independence."
Day 2 of the Forum (March 1) was held at Georgetown University. This part of the Forum was open to the public. Mr. Raffi Hovannisian, Armenia's First Foreign Minister, delivered the keynote luncheon address.
The program for Day 3 (March 2) was designed for young professionals and included thematic meetings with to continue the discussion on Armenia-Diaspora relations and offer young professionals opportunities to network in Washington.
Below are some presentation made during the Forum.
Keynote Opening Address
Dr. Daniel Kufmann, Senior Fellow
Young Professionals Session I
Jennifer De Mucci, Fordham University
Tamar Palandjian George Mason University
Henry Dumanian, the City University of New York
Young Professionals Session II
Dzovinar Derderian, Georgetown University
Ted Tourian, Burgh, Balian & Bergstein, LLP
Keynote Luncheon Address
Senior Professionals Session II
Artsvik Minasyan, Member of Parliament, ARF Faction